Domestic Tour
Charming State of North East "Beautiful Assam Tour"
Assam, a treasure trove of natural beauty and diverse history, is one of the least explored regions in the country, lending it an immaculate, untouched aura that is sure to allure you. A land of wild forests, mighty rivers, and acres and acres of tea plantations, Assam, located in North East India, has a breath-taking landscape and is known to be one of the top biodiversity hotspots in the entire world. A veritable paradise, Assam shares international borders with both Bangladesh and Bhutan and boasts of its vibrant culture and scenic beauty, as well as its historical significance. One of the most beautiful states of India, Assam is the gateway to the enchanting and unexploited northeastern part of the country. With the majestic Brahmaputra river, magnificent hills, its rich flora and fauna, the state is every tourist's paradise.
Route : Guwahati → Kaziranga → Jorhat → Dibrugarh
Duration : 07 Nights / 08 Days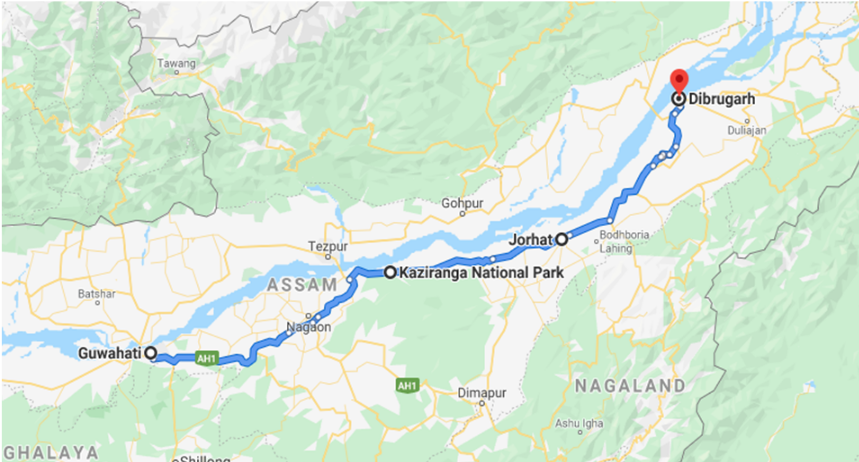 Places to Stay:
02 Nights' Accommodation in Guwahati at Hotel Kiranshree Grand/Hotel the Lily/Hotel Royal De Casa,
02 Nights' Accommodation in Kaziranga National Park at Resort Borgos/IORA The Retreat/Infinity Resorts
01 Night Accommodation in Jorhat at Kaziranga Golf Resorts
02 Nights' Accommodation in Dibrugarh at Hotel Tea County/Hotel Natraj,
Tour Highlight's:
Explore Kamakhya Temple (Sati Pith), Tirupati Balaji Temple, Nabagraha Temple, Assam State Museum, State Zoo cum Botanical Garden, Regional Science Centre, Sukreswar Temple (situated on bank of Brahmaputra River) in Guwahati,
Enjoy Evening Golden Sunset Cruise on river Brahmaputra in Guwahati,
Explore Kaziranga National Park by witnessing Rhino, Hog Deer, Swamp Deer, Wild Buffalo, Elephants, Tigers
Enroute to Jorhat explore Majuli, (the largest fresh water mid-river inhabited deltoid island in the world) speciality Pottery Making and Mask making of clay, bamboo, cloth( Masks are made on all the characters of the Mahabharata, Ramayana, and Puranas are quite light in weight),
Enroute Dibrugarh Explore Sivasagar (capital of the Ahom) visit Shiva Dol (The tallest Shiva temple in the entire north east), Shiva Sagar (tank) popularly known as Borpukhuri (manmade water Reservoir), Rang Ghar (Asia's largest amphitheatre and was the cultural playground of the Ahom Swargadeos or kings) and Talatal Ghar (Palace of the King).
Explore Dibru Saikhuwa National park by board on Cruise from Tinsukhia where you witnessed White Winged Wood Duck and may others.
Travelling By:
Ex Raipur Flight tickets,
All tours and transfers by Private Chauffeur driven.